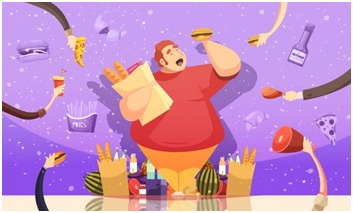 Cancer and obesity may have been linked several times as obese people have the risk of developing certain specific types of cancer such as endometrial cancer, oesophageal adenocarcinoma, gastric cardia cancer, kidney cancer, liver cancer, gallbladder cancer, breast cancer, colorectal cancer, etc.
Though the evidence linking obesity to cancer is a limited study but people with a higher amount of fat in the body have an increased risk of developing cancer.
Even it isn't true that whoever is obese will develop cancer. An obese person differs from a lean person not only on body fat but they may differ in other ways too.
It can't be assumed that every obese person will develop cancer but they may have a higher risk. The rising case of obesity has emerged as a major health problem. Obesity is preventable by adhering to a healthy lifestyle.
Obesity leads to various chronic diseases that may be avoidable. Social awareness of the adverse effects of obesity may help to manage the rising incidences of cancer and obesity.
Some evidence states that obesity deteriorates many aspects of cancer survivorship like cancer recurrence, quality of life, and cancer progression, and prognosis.
Several kinds of research are going on to establish the relationship between cancer and obesity.
Cancer is a debilitating disease and obesity increases not only the risk of cancer but several other diseases.
It is better to maintain a healthy weight to avoid the outcome of many lifestyle diseases.
In comparison to normal-weight people, those people who are overweight tend to have a greater risk of cancer, diabetes, cardiovascular disease, high blood pressure, and stroke.
Nowadays, children are even more prone to getting overweight due to long hours in front of a laptop or smartphone, unhealthy food habits, and lack of physical exercise.
Children should be encouraged for some physical activity to avert the adverse consequences of obesity.
The importance of a healthy body weight
To maintain healthy body weight is important for everyone. Even children should be encouraged to have healthy food and some physical activities.
Due to the fast-moving lifestyle, people prefer fast food and ready to eat stuff due to time constraint.
The fast-moving life leads to a sedentary lifestyle. People eat unhealthy food and abstain from having any physical activity. Apart from being obese, age and genes too are responsible for causing cancer.
There are many different factors responsible for increasing the risk of cancer. Some of the factors can be controlled and some can't be avoided.
Being obese does not mean that the person will surely develop cancer but it increases the risk of cancer.
Also Read, Onco Nutrition Plays an Important Role of a Cancer Patient
The factors responsible for increasing cancer in obese people
It is not well defined how obesity increases the risk of cancer but there are few factors that heighten the chances of cancer. Some of them are as follows:
Postmenopause the oestrogen made by the fat cells makes the cells multiply faster in the womb and breasts which increases the risk of cancer.
Insulin level and growth factors increase with excess fat that makes the cells divide more quickly.
The cells in fat release cytokines that promote cells to divide including the cancer cells.
More research work is to be done to prove that obesity causes cancer. But it does not establish the reason that all obese people will have cancer.
Also Read, Cancer Misconceptions that people generally have
Promote healthy weight
To reduce the risk of cancer and other lifestyle diseases, few changes in daily life will aid in maintaining healthy body weight.
Avoid fast food, sugary drinks; instead, have lots of water and healthy snacks.
Limit intake of food to control calories.
Eat in small portions at regular intervals.
Include some physical activity to maintain weight.
Take the staircase instead of the lift.
Walk for at least half an hour, if possible.
Limit intake of sugar and fatty foods.
A sedentary lifestyle promotes unhealthy eating hence be active and eat healthily.
Exercise daily.
Include fresh fruits and vegetables in your daily diet.
Include healthy program like procarbohydrates, proteins, healthy fats, minerals in your diet.
Eat mindfully.
Get adequate sleep.
By maintaining a healthy weight the risk of developing a few lifestyle diseases lowers. Moreover, the person feels energetic and better about themselves.
Eating healthy and exercising daily reduces the stress level and promotes a healthy life. Exercising and healthy eating habit improves balance and flexibility, bone density, increases immunity, builds muscle tone, and relieves joint pain.
It enhances their quality of life.
Cancer and Obesity are one of the leading causes of death but the survival rate has improved than before due to the advancement in medical science and with early diagnosis of a certain type of cancer.
Obesity leads to several health-related complications and some evidence confirms the existence of a link between cancer and obesity. Obesity has to be taken seriously and steps must be taken to improve the situation worldwide.
The increase in physical activity along with dietary changes can help in maintaining a healthy weight. People need to be aware of the health issues that arise with obesity and take the necessary initiative to avert its consequences.
Conclusion
Obesity is associated with numerous health-related problems and a significant link is being established between obesity and increased risk of cancer.
Obesity is becoming a common health issue worldwide and has many health-related complications.
The reasons behind the increase in the risk of cancer are numerous and highly complex. In some studies, it has been found that obesity may promote tumorigenesis.
By reducing obesity certain cancer risks can be prevented. Some facts confirm that weight loss initiates an increase in survival rates.
A little awareness of health program can bring a huge change. People leading a sedentary lifestyle along with unhealthy food habits are more prone to getting obese.
Obesity may have many different reasons but the initiative must be taken to reduce obesity to lead a better life.